About Us:
"Hi everyone! I'm Sarah and I'm very excited to be one of the Co-Presidents of UPSA this year.
I'm in my 4th year majoring in Physiology and Neuroscience, and hope to work in the medical field someday. When I'm not busy studying, I enjoy being involved in different on-campus groups and mentorship programs to help first-year students whose position I was in not long ago. This will be my 3rd year on UPSA and although this year will be different, I can't wait to host more events for physiology students!"
Hey everyone! I'm Avnit and I'm excited to be the Co-President of UPSA for the second year. I'm also in my 4th year majoring in Toxicology and minoring in Physiology and Immunology. So when I'm not studying or waking up 5 mins before to attend my zoom class in bed (thanks corona), I usually love to play Among Us, Call of Duty or binge watch an entire Netflix series in one sitting :) I know this year has been chaotic for us all but after having spent 3 years with UPSA, we will definitely host enjoyable events for you guys and engage a social atmosphere in a socially distant world! I look forward to seeing you all at our events!
Hi! My name is Alex and I am a fifth year student who is taking an extra year to complete prerequisites for medical schools in the states! I am majoring in Neuroscience and have a double minor in Physiology and Psychology. On UPSA, I am one of the two external affairs directors. When I am not studying, I create illustrations and draw on my ipad and computer, exercise, mentor students, and watch Netflix! Although this year has been chaotic to say the least, I hope that I (and the rest of UPSA) can help to ease some of your stress by hosting creative, interactive, and fun events for you all throughout the year! I look forward to meeting and getting to know you all!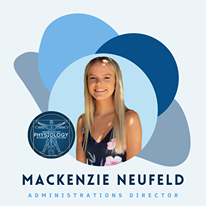 Hi everyone! My name is Mackenzie and I'm really excited to be this year's UPSA administrations director! I'm currently a third year human biology and physiology student hoping to work in the medical industry someday. I'm originally from Vancouver but moved to Toronto for university back in 2018. Whatever free time I have is usually spent exploring the city with friends (pre-covid, of course)! I'm really grateful for the opportunity to be part of this amazing organization and am looking forward to the many fun, virtual events to come!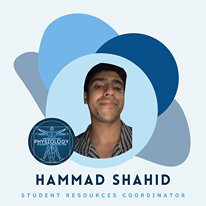 Hi everyone! My name is Hammad and I'm your UPSA student resources coordinator this year. I'm a fourth year in the Human Biology Major with Immunology
and Physiology Minors. When I'm not stuck on a zoom call, I like playing chess and watching anime. As the student resources coordinator, I would love to support Physiology students in any way I can. This year, obtaining past tests or extra help can be difficult as professors and admins try to navigate through the unpredictable situation. But, I'd love to hear what students require and work to help them get the support necessary to succeed. I hope to see you at UPSA events and feel free to send me a message if you'd like to talk about anything!
Hi everyone! My name is Emily Fu and I'm so excited to be the Communications Director of UPSA this school year. I'm in my third year and I am majoring in Human Biology with minors in Physiology and Buddhism, Psychology, and Mental Health. In my spare time, I like to try new foods and restaurants, explore the city by foot, and sleep. I'm hoping to provide support for students through UPSA and to meet and connect with other physiology students this year! Always feel free to reach out to me about anything :)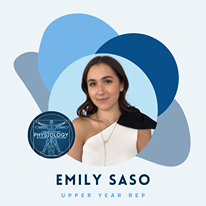 Hello physiology friends! My name is Emily Saso and I am so excited about being the Upper Year Rep for UPSA this year! My majors are Physiology and Pharmacology; I would like to continue on with my studies in the medical field after undergrad. I really hope to instill an engaging and supportive community within the Physiology Department during these virtual times. When I'm living life outside of school (a luxury I usually cannot afford lol) I play video games, paint, fall down rabbit holes on YouTube and bake a lot of cookies. Please reach out to me anytime this year to chat, learn how to solve a Rubik's cube, or geek out over anything — I'd love to meet and get to know you all!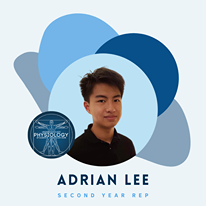 Hi everyone! I'm Adrian Lee and I am one of the Second Year Reps for UPSA this year! I'm doing a double major in Physiology and PharmTox! My favorite things to do are going out to eat and watching Netflix. This year I'm hoping to coordinate some events that are more relevant for my fellow second year students!
Hello everyone! My name is Anthony Wong and I'm very excited to be one of the Second Year Representatives of UPSA this year. I'm doing a double major in Physiology and Pharmtox with a minor in Economics. When I'm not busy doing school work, I like to watch kdrama, dance, and explore different cafes and restaurants. Although this year is very different, I am hoping to connect with more physiology students especially second year students and become their voice!
Hey I'm Victoria, your UPSA Promotions Director! This year I am super excited that I get to share my graphic designs with you all through our social posts & UPSA apparel! I am a 4th year Neuroscience Specialist and Physiology Minor, with the goal of pursuing medical school after I graduate. When I'm not studying, I like playing soccer, skiing, kickboxing, painting and cooking new recipes. I also love to travel (before covid) and have lived in Australia, Switzerland and Dominican Republic! As my second year with UPSA I hope to meet new people (virtually) and be a part of all the amazing events we offer. I will never forget the way UPSA welcomed me into their events ever since I was in first year, and now I hope to create a supportive community for others to learn and grow. Please feel free to reach out to me if you need any advice or just someone to chat with! :)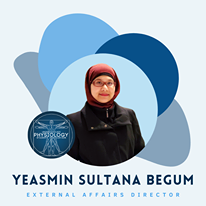 Hi everyone! My name is Yeasmin and I am a fourth year student doing a Health & Disease Specialist, Neuroscience Major and a Physiology Minor. This is my third year as an External Affairs Director for UPSA. I like to read (a lot) and also enjoy creating art on my iPad. Looking forward to working with you all this year!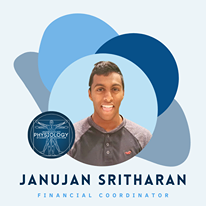 Hey! My name is Janujan and I am a fourth year student who is a major in Pharmacology and Mathematics, with a minor in physiology. Studying is basically my full time job. My favourite activities to do are hanging out with family/friends, sleeping, eating, strength training, and sleeping (did I mention I like sleeping?). In UPSA, my role is to reimburse people who spend our money. So this year, I hope to write tons of cheques and not lose receipts. Look forward to meeting you all!